A door provides your home with style & more importantly security, and therefore is one of the most important products you can buy for your home. When you buy a door from Fife Windows & Doors Ltd, you can rest assured that you are investing in a quality product. We don't compromise the security of your home by installing inferior and less expensive products.
We offer two different ranges of entrance door, Upvc Panels & GRP Composite as well as French, Patio or Aluminium Bi-Folding doors. For customers who prefer to see the product up close, we now have over 40 doors on display in our showroom, from PVC panel & Composite doors to Patio, French and Bi-Folding doors. We always recommend to customers that they see a product before they buy it.
Composite doors are gradually becoming the preferred choice for homeowners when it comes to replacing their doors. They are made up from a GRP (Glass Reinforced Plastic) outer skin. The insulating core consists of 100% CFC-free polyurethane which provides superior thermal performance and enhances the doors soundproofing. The introduction of U-Value regulations and energy efficiency demands make the Composite door an excellent choice.
They are available in a wide range of colours and have a timber grain effect which enhances the look of the door aesthetically. Composite doors will not bow, warp, crack, splinter or rust – yet retain the warmth and charm of a traditional timber door without any of the drawbacks. Composite doors require almost no maintenance and unlike wooden doors, do not need regular painting and varnishing.
If you wish to see the range of GRP Composite doors available, feel free to call into our showroom where we have plenty on display, we have also recently installed a 42" touch screen with door builder software so you can design your own door.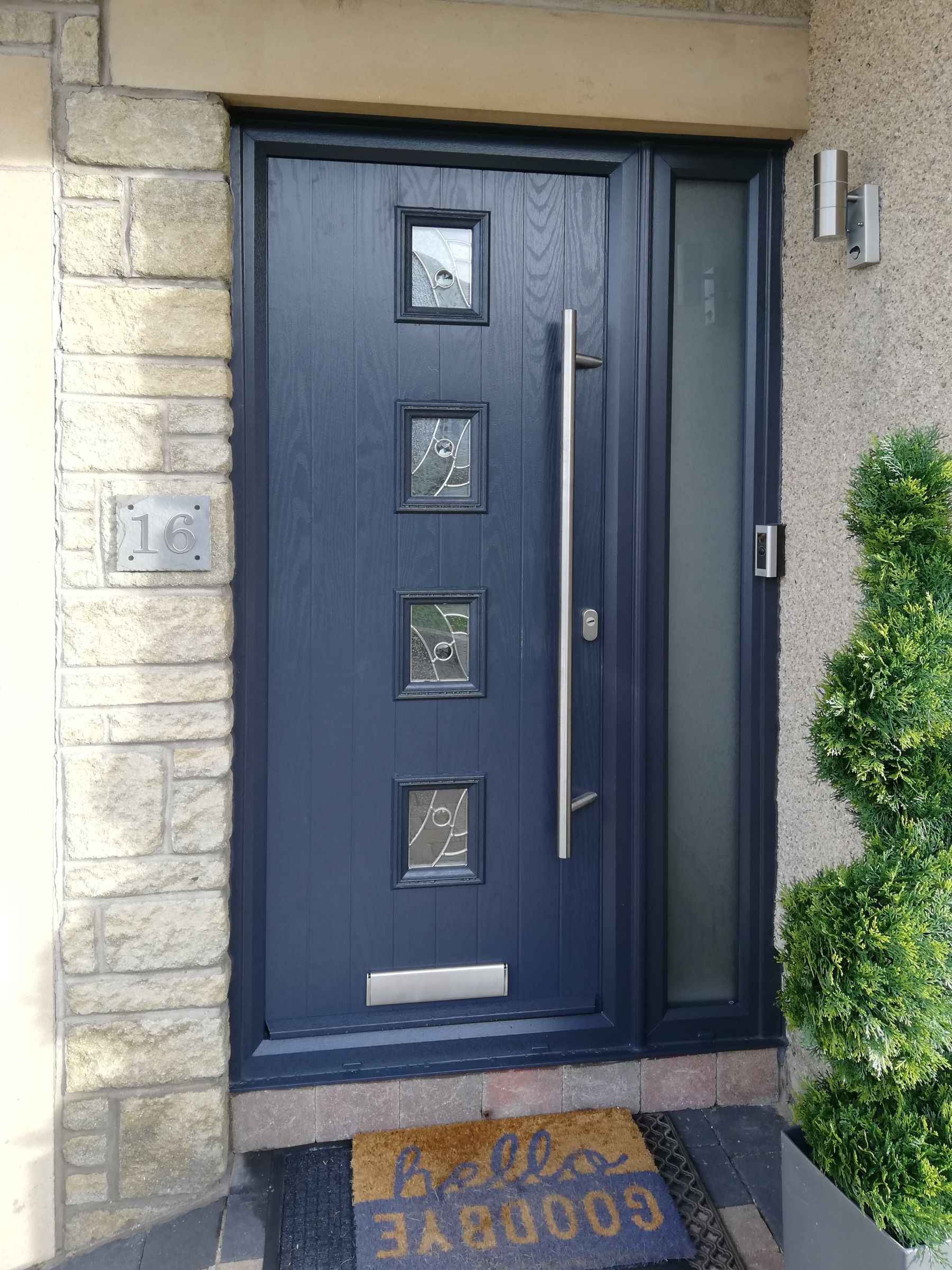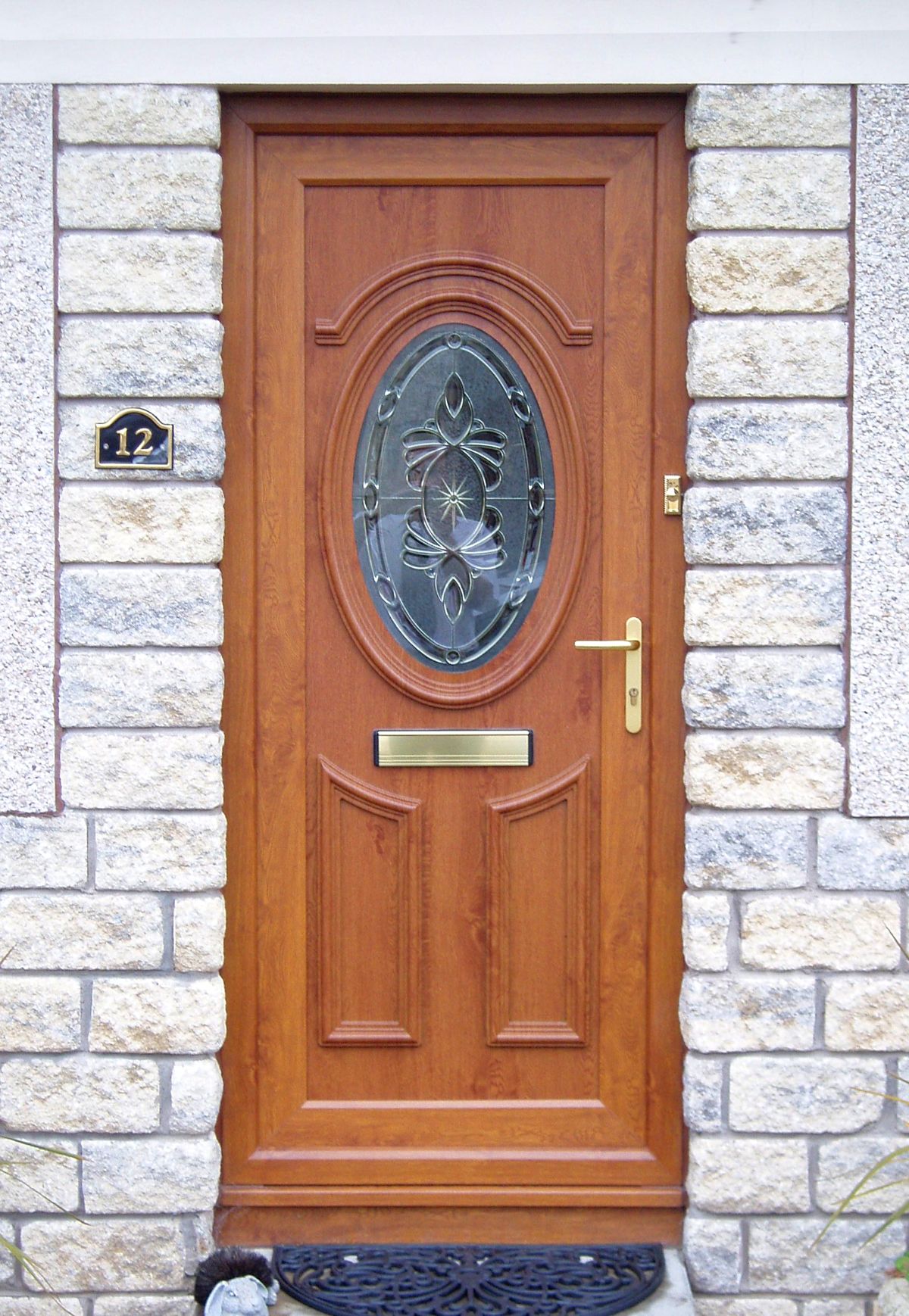 Upvc Panel doors are a popular choice when it comes to replacing your entrance door. There are literally 100s of different panel shape and glass design combinations to choose from. All our PVC panel doors are fully reinforced both in the outer door frame and within the core of the panel itself. We do not compromise the security or durability of our doors by fitting unreinforced products. The decorative panels are constructed from the highest quality PVC to keep them looking good for years with the minimum of maintenance. A major benefit when opting for a PVC door is that it boasts excellent thermal efficiency levels compared to timber or aluminum. When it comes to security, it doesn't come much better than the new Yale 8 door lock which is now fitted as standard on all our Upvc panel doors.
The choice of glass designs available is extensive. From simple leaded designs to diamond bevels and fused tiles, there really are designs to suit every home.
If you wish to see a selection of our PVC panels and glass designs that are available, feel free to call into our showroom.
French, Patio or Bi-Folding doors will enhance any room and create a bright living space. The very highest of security levels are achieved through multiple locking points and dog bolts in the case of French doors or a built in anti jacking system in the Patio doors, both ensure that the doors cannot be lifted off from the outside offering unrivalled security.
Where customers are looking to remove an existing window and brickwork to take a set of doors, a building warrant would need to be obtained from the local Council. We can take care of the whole process from having drawings submitted to Council to cutting out any brickwork, making good once the doors are installed and building steps or creating a slabbed patio area outside the new doors if required.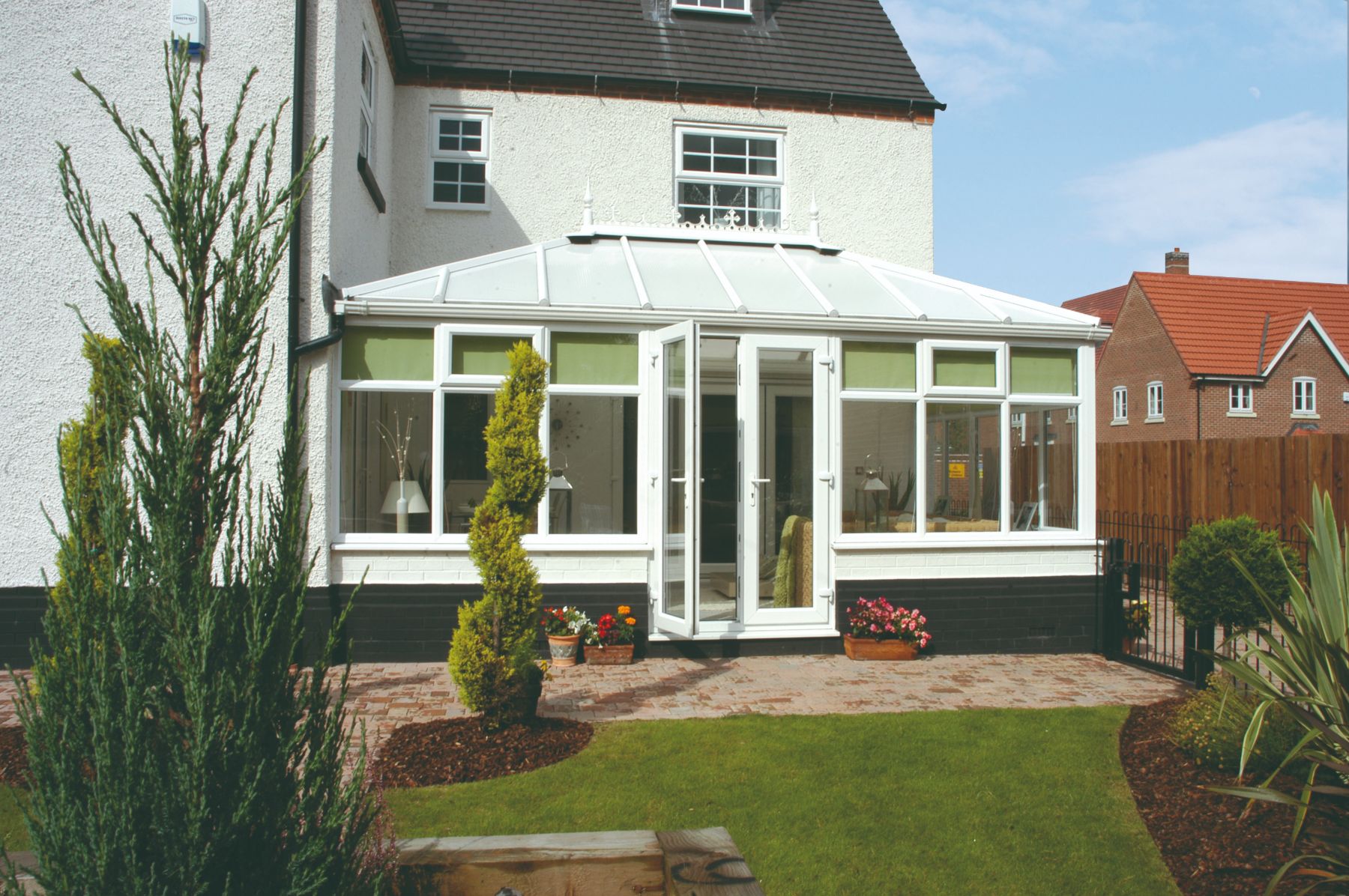 Consist of two opening doors (master and slave) You have the option of the doors opening inwards or outwards depending on your situation. Depending on the overall size of the brickwork opening, fixed glazed sidescreens may need to be fitted either side of the French doors. Includes multi-point hookbolt locking system as standard for maximum security.
Consist of a sliding door and a single or multiple fixed apertures. All sliding panels on our patios slide internally for added security. Includes multi-point locking system and anti-lift mechanism that prevents panes being levered from the frame. Available with low threshold option, also makes the Patio ideal as a room divider between the house and conservatory or sunroom.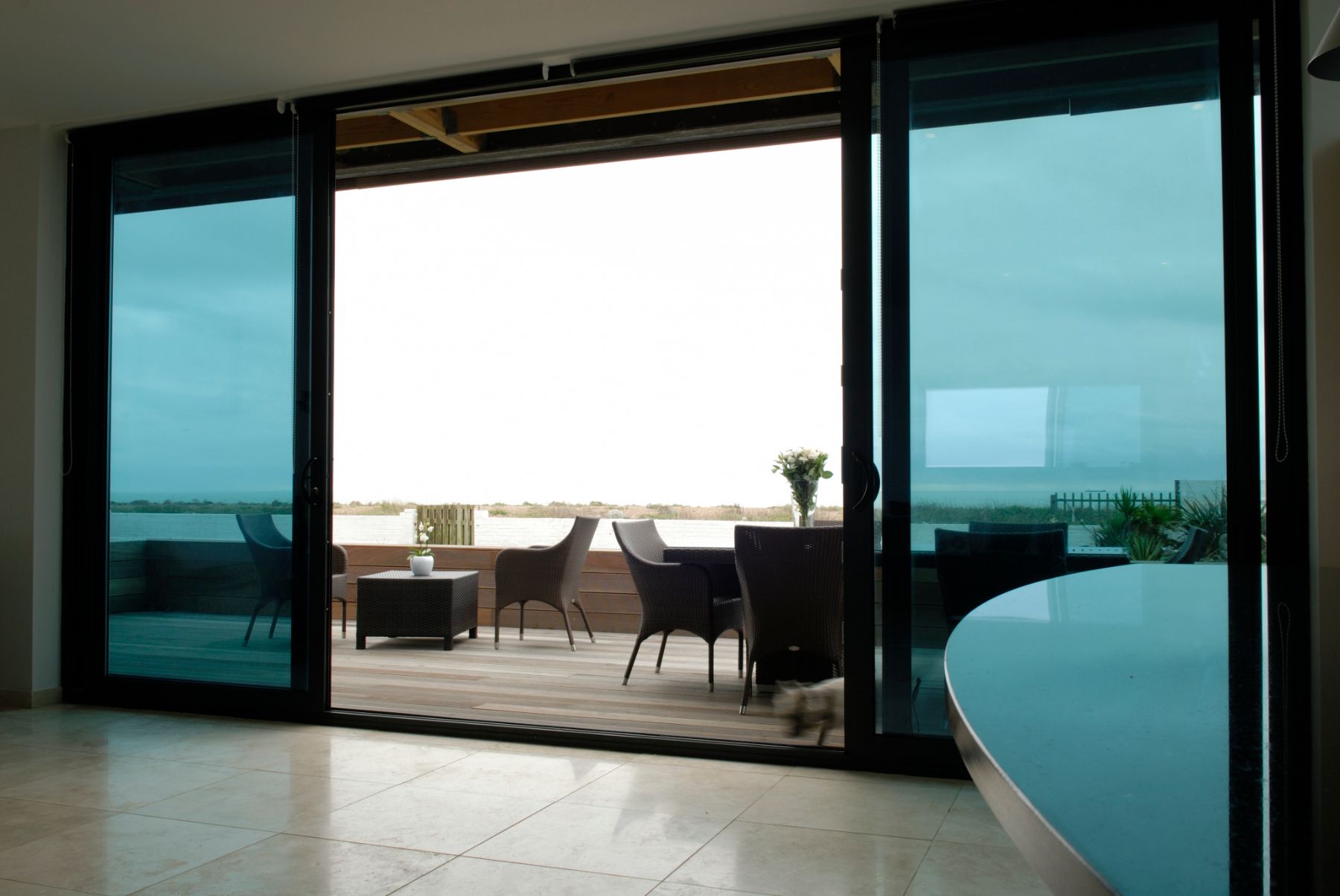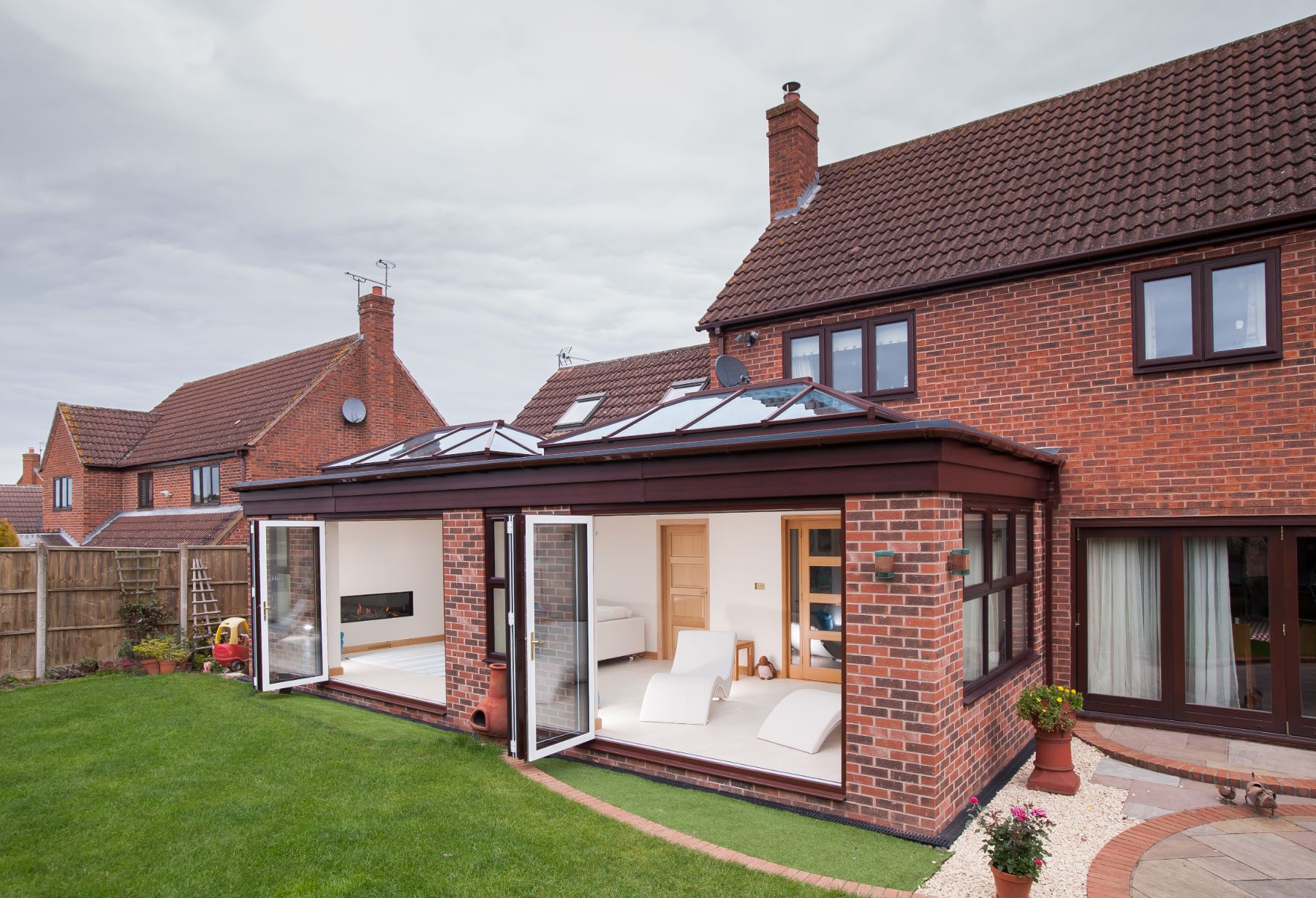 We now offer Aluminium Bi-Folding doors. With a minimum of 3 parts, Bi-Folding doors are ideal when looking to open up a large area between the home and garden and can be made to any RAL colour. Available in a wide choice of internal and external folding panel options. Security is assured by multi-point lock mechanisms on the main opening sashes, and shoot-bolt locks on the 'floating'mullions.